Image Armor LIGHT Formula DTG Pretreatment
Details
Image Armor LIGHT Formula DTG Pretreatment
Image Armor Light Shirt Formula
Image Armor Light Shirt Formula is the next generation of pretreatment from Image Armor. The Light Shirt Formula makes short work of white and light colored garments with CMYK only printing or with White + CMYK printing – they both work great! Not only does the Light Shirt Formula make your shirts more vibrant, but it opens up new possibilities never before experienced with a DTG pretreatment.
USE FOR:
100% White cotton and light color shirts
100% White Polyester shirts look like sublimation and wash incredibly
50/50 white and light colored shirts get new life with DTG printing and Image Armor Light
Increased vibrancy and wash fastness makes your shirts look like high end screen printing
CMYK only printing or White + CMYK
Most other "CMYK" pretreatments do not allow you to print white ink on your garments and have it wash extremely well. Image Armor Light Shirt Formula changes the game with super vibrant CMYK only prints and allowing the addition of a white highlight or under base on light colored shirts with great wash fastness.
Once you experience what Image Armor Light can do for your white and light colored shirts – especially on 50/50 blends – you will wonder why anyone would ever print a DTG shirt without Image Armor Light again.
Benefits of Image Armor LIGHT Pretreatment
No Pretreatment Stains
No Crystallization of the pretreatment after pressing
Much wider margin for application – in reverse to the leading brands the more Image Armor applied actually increases washability.
Easier on your pretreating equipment. Less clogging issues.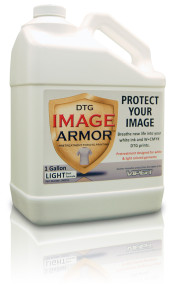 Image Armor is proud to announce the release of the new Image Armor LIGHT Shirt Formula for White and Light Colored garments.
The new LIGHT Shirt Formula expands your printing capabilities beyond anything you thought possible with increased vibrancy and wash fastness like you've never seen before in DTG printing.
The new LIGHT Shirt Formula gives:
Increased vibrancy, detail and wash fastness on White and Light colored 50/50 shirts, White and light colored 100% cotton shirts, and White 100% Polyester shirts
For use with CMYK only printing OR white+CMYK printing
No staining or scorching on white or light colored garments
Easy to use – no mixing required
The new LIGHT Shirt Formula will change the way you print DTG shirts. Using it on white shirts for just CMYK printing will yield high end screen printing like quality prints with great wash fastness. Works great on 50/50 or even white 100% polyesters shirts opening new markets for your DTG Printer. When printing on white 100% polyester fabrics you can achieve sublimation like prints at a fraction of the labor and costs. Plus, opening the door to 50/50 shirts will expand your printing options and give customers more choices over only printing 100% cotton garments.
Image Armor LIGHT Shirt Formula is priced just right also, allowing you to pre-treat all your light shirts for as little as $.10-.20 per shirt depending on application method, consistency and area covered. For just a little additional cost per shirt you can give your customers improved vibrancy, wash fastness and detail like never before.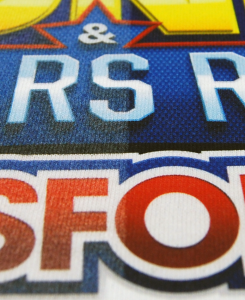 As can be seen in the photograph above, the left side of this image was not pretreated while the right side of the shirt was pretreated with Image Armor LIGHT Shirt Formula. The shirt was a 50/50 Jerzees 29M white t-shirt. Previously, untreated 50/50 blend shirts left the colors dull and wash fastness lacking as much of the image faded the first wash or two. With Image Armor Light Shirt Formula you can see a definite increase in detail, color vibrancy and the wash fastness will enhance the perceived value of your garments as well as give your DTG printing business a new found legitimacy on a wider variety of garment colors and styles.
Pre-test prior to any production runs for substrate suitability and performance.
Application:
When applying pretreatment to the garment, make sure to apply it as evenly as possible (mechanical pretreatment machines are the best).
Depending on the shirt being pretreated there are some variables to consider on how much to apply.

A good starting point is 16-22 grams per 14″x14″ area.

NOTE: 18-26 grams may provide you with better washability and optical brightness. This is opposite of what other manufacturers recommend. Test to find your best laydown for the garment you are pretreating.

The heaver the garment, the higher the amount of pretreatment needed.
The darker the color, the more pretreatment is required.
The lighter the weight of the shirt, you can usually reduce the amount of fluid applied to the garment.
The lighter the color of the shirt, less pretreatment is usually required.

Always use a high quality garment that is ring-spun with a tight knit weave. The smoother and tighter the weave, the better your final DTG print.
Recommended Curing:
Heat set mmediately after spraying. Do not allow to dry before curing. Heat Set on a heat press at 330F for 30 seconds. Raise heat platen to allow excess steam to escape. Heat press for additional 10 second intervals until dry. Raise the heat platen between each interval to allow steam to escape. Covering the garment with heat resistant glossy kraft paper will minimize the amount of garment sizing and pretreatment buildup on heat platen. It also provides a smoother finish that accepts the White Ink more consistently creating better white coverage.